We use mainly the Centurion range of D3 and D5 motors for automation.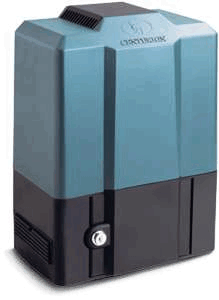 These systems use a 12V maintenance free battery as the primary power source. The battery is charged via a mains supply or solar panel.
The key features of these systems are:
CUSTOM BUILT GEARBOX – made from advanced engineering materials for corrosion-free strength and durability.
REVOLUTIONARY INTERNAL LIMIT SWITCH (DOSS) – for pin point stopping and easy installation. Novel gate referenced origin ensures that the end limit positions are never lost even if the gate is accidentally knocked off its rail and repositioned differently.
SENSITIVE ANTI CRUSHING CONTROL – for greater safety.
PROVEN SURGE AND LIGHTNING PROTECTION – for added reliability.
INTERNAL MANUAL RELEASE – with lockable access door for greater security.
UNINTERRUPTED OPERATION – using safe low voltage battery driven DC motor.
FAST OPERATING SPEED – offers greater security and convenience with smooth acceleration and deceleration.
Aspen Steelworx also supply and install GSM Controllers. These devices can be triggered by "legal" numbers, i.e. numbers that are programed to open a gate. These units can also communicate with you via the GSM SMS system. e.g. an alarm is triggered, the unit can send a SMS to your phone advising you of the alarm.